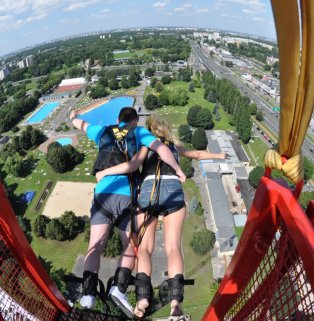 jumps in Warsaw:
January: 5, 19 from 12-19
February: Valentine's Daj from 12-19 & 16
March: 9, 26 from 12:00 - 19:00
in August open every day from 12-20
in September only on Mondays closed on Fridays and Saturdays in open from 12-20 the remaining days from 12-19
In october we are open in every Fridays, Saturdays and Sundays from 12:00-19:00
in November 10, 17, 24 (3 saturdays) from 12:00-19:00
in December 1, 8, 15 (3 saturdays) from 12:00-19:00
No reservation !!!!! just come end jump.
Payment only cash.
The next jumps in Białystok:
January: only 13. (at 13:00-16:00)
February: only Valentine's Day (at 16:00-19:00)
March: ?????
August: 24, 25, 26, 31 (at 12:00-8pm)
September, open on Fridays, Saturdays, Sundays (at 12:00-19)
October we are open on Saturday from 13:00-18:00
on Sunday we are open from 12:00-17:00
November - 11, 18, 25 (3 sandays) open from 13:00-17:00
December - 2, 9 (2 sandays) from 13:00-17:00
---
No reservation !!!! just come end jump.
Payment only in cash.
I speak English (Kryspin) +48 661 191 199
TARIFF BUNGEE paid only in cash
1 Jump ................................... 130 zł.
Jump-two person .................. 260 zł.
Photos from the top ................ 30 zł.
Photos from the botton ........... 30 zł.
Sightseeing lift per person ...... 20 zł.
Address Warsaw Aleja Prymasa Tysiąclecia 103.
From the center of tram number 10
Bungee Jumping Mario – Maps Google
Address Białystok ul.Piastowska 36
REGULATIONS
1st. A sine qua non for jumping is a hand-signed confirmation of good health.

2nd. It is absolutely forbidden to jump for people who are intoxicated or under the influence of drugs and psychotropic substances, pregnant women and people suffering from or who have recovered from certain illnesses such as:
- cardio-vascular diseases : severe hypertension, cerebrovascular diseases(brain vessel disease ), aorta aneurism,lower limbsischaemic, ischaemic heart disease, people who suffer from cardiac insufficiency, people who have undergone arterialvascular surgery, people who have huge varicose veins.
- central nervous systemdisorders: epilepsy, depression, psychosis, paresis, people who had a stroke
- eyes diseases: retinal disease, glaucoma, vision defects, people who have undergone eye surgery
- motor organs diseases: serious spine injuries, serious fracture of lower limbs, pelvis,spine, spine diseases (slipped disk, spondylolisthesis, osteoporosis, serious curvature of the spine, all congenital defects )
Employees at Bungee Jumping "Mario" are not doctors and they are not authorized to decide who can jump. Everyone is obliged tomake a handwritten signature that he/she is healthy. If someone is not sure whether is healthy, she/he must see the doctor and consult her/his state of health.

3rd. Minors must present written authorization signed by a parent/ guardian (formula below).

4th .Before the jump, the candidate should leave any objects that could fall during the jump (keys, coins, wallet, lighter etc.) and take off his shoes or to lace one's shoes uptightly.
5th. If the jumper after the third signal issued by the instructor (3, 2, 1, bungee) fails to jump or resigns before the jump, the money for the jump is not refund.
6th. It is prohibited to grab the rope during the jump/ while being in the air.


7th. In case of not complying with theregulations at Bungee Jumping "Mario", the operator is not to be held responsible for any adverse consequences for the jumper.


8th. The instructor has the right to refuse the jumper to jump for giving no reason.

9th. Bungee jumping is an extreme sport. It involves risk, unpredictable situations which are independent of the Operator that obeys safety requirements.
Bungee Jumping "Mario"